Product Description
Free Up Your Workspace with a Stand Bracket
The PCSK-03 is a VESA-compliant bracket for easily mounting a client terminal such as a thin client or mini PC to the back of the monitor's stand. The space the client terminal previously occupied is now freed up so you can make better use of your desktop. Even with the client terminal attached you can adjust the monitor's stand freely.
Match Accessories from Front to Back
The PCSK-03 is available in both black and white for an all-around coordinated look between the monitor's cabinet, bracket, and cables.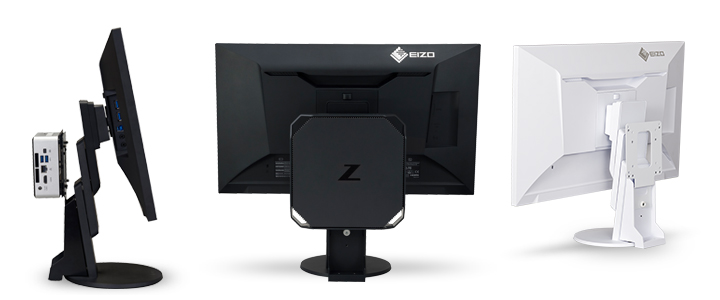 Safe to Use with Various Client Terminals
The bracket has been tested with several companies' client terminals, even in multi-monitor environments. When installed correctly, the bracket does not interfere with the balance of the monitor so that even a heavy client terminal will not cause your monitor to overbalance.
Supported Models
FlexScan
Frameless
31.5″
EV3285
27″
EV2785
24.1″
EV2456
23.8″
EV2451
Validation Results
* Version A is not supported.